These Top Eleven Tips is a guide that will help you to understand the game and perform better on the Top Eleven Football Manager.
Here are some top tips for managing an Eleven team:
Set realistic goals and expectations – make sure that your team knows what you expect of them.
Communication is key – make sure that your team are communicating effectively and regularly.
Empower your players – give your players the freedom to make decisions and take control of the game.
Focus on player development – encourage your players to improve their skills and use their strengths.
Make sure your team has a system – ensure that everyone is aware of the roles and responsibilities of each player.
Build relationships – foster a positive team environment by building relationships with your players.
Have a plan – have a plan for each game and make sure your team is prepared.
Analyze the opposition – study the opposition and devise tactics to exploit their weaknesses.
Make use of analytics – use data and analytics to inform your decisions and spot trends.
Be flexible – be prepared to make tactical changes during a game.
Have fun – remember that football is a game, so enjoy it!
What is Team Mentality?
Team Mentality is a style of play for your squad to play passive or aggressive during the match. There are 5 types of Team Mentality:
Hard Defending: If you adopt this mentality, your team will start from a very deep position. Initially, while attacking, all of your players will be in your own half, passing the ball and moving up the field. Then while you are defending against an opponent, all your players will be in your own half and they will try to intercept the ball and hit the opponent on the counter-attack.
Defending: If you play this mentality, your team will be slightly high on the pitch. While defending, your Forwards will try to win the ball from the opponent's midfield and will try to hit the opponent on a counter.
Normal: In normal mentality, our forward will stay higher up on the opposition half but our defenders will hold on to our own half of the pitch. Midfielders will play on both halves of the field.
Attacking: In this mentality, while we have the ball possession our back-line will be slightly high and our Defensive fullback will cross the own half line to support the attack.
Hard Attacking: In this mentality, if we have possession of the ball we will start passing from the opponent's half and the defensive player will support in attack.
What is focus passing?
Focus passing is the situation when we have ball possession, we will play that ball on that part of the field. We have 5 options for focus passing:
Mixed: If we adopt this tactic, we will play the ball on every part of the pitch.
Down both flanks: In down both the flanks, you will play the ball on both the left and right sides of the field to create chances.
Right flank: It means you will play the ball on the right flank to create chances.
Left Flank: It means you will play the ball on the left flank to create chances.
Through the middle: If you apply this tactic, you will play and pass the ball through the center of the field.
Why and when to use Force Counterattacks?
Force Counterattack is a tactic that allows you to counter your opponent while they are attacking your defense. 
Turn ON if your opponent is having more possession on the stat.
Turn OFF if you have more possession.
What is Pressing Style?
A tactic to press the opponent high up the pitch or lower the pitch. If we press the opponent high up, your player will try to win the ball on the opponent's half and press the opponent's whole pitch. The high press will make your player tired fast by spending the energy of the players. The low press will press the opponent and try to win the ball when the ball is on your own half, it is not as tiring as high press.
Define Tackling Style?
This means how much you can be aggressive during defense while in the match. Easy tackle will produce less tackle and will have less number of fouls during the match. Normal tackle means slightly aggressive and will produce more tackles and fouls during the match. Hard tackle means full aggressive defense which will produce more tackle and fouls. Fouls will give the opponent the chance to score goals from free-kicks and penalties.
Difference between zonal marking and man-on-man marking.
Zonal marking means the player will have to stay in the same position of the formation you choose for your squad.
Man-on-man marking means your player will mark the opponent's attackers and the formation will be fluid according to the opponent's attackers.  Man-on-man marking will make our defenders fatigue soon.
How to play offside trap?
Offside trap will try to make offside for the opponent's attackers. Turn this ON if the opponent is playing more long balls to their attackers and turn this off if the opponent is playing short passes.
Always train your Squad before a match. Try easy training which reduce less condition and gives massive result.
Different player position need different training drills.
Here are the training tips for all individual players.
Before starting the match, provide full Morale Boost and Fitness Condition Bouns to your players to perform better and win that match.
How to Beat Strong Top Eleven Opponent?
-You have to play Counter attacking to beat stronger opponent.
-Your opponent will try to score, so you have to be strong in numbers your defense. Try to mark all the opponent's attacking players.
-Then play long balls for the counter-attack. Don't play Short ball because you cannot win against the strong opponent's players. So let the opponent's players attack you then your defense will get the ball by tackling or intercepting and long passes that balls to your attackers to turn defense into attack.
How to Break Opponent's defense?
-If Opponent has 4 Defenders(DL-DC-DC-DR)
Use 2 ST to break them.

-If Opponents has 3 DC
Then use ST-AML-AMR.
-If the Opponents has DL-DC-DR
Then use 3 ST.
How to Defend Opponent's Attack?
-If Opponent has 2 ST.
Use 3DC or DL-DC-DR to defend them.

-If Opponents has 1 ST.
Then use 2 DC to deal with that ST and mark all other attacking players that will provide the balls to the lone ST.
-If the opponent has ST-AML-AMR.
Use DL-3DC-DR to defend them.
Tactics to Beat Strong Top Eleven Opponent
Team Mentality: Normal
Pressing Style: Low
Focus passing: Mixed
Passing Style: Long Pass
Force counterattacks: ON
Offside Trap: OFF
Tackling Style: Normal
Marking Style: Zonal
*Forward Arrow To ST*
Always built your future players from youth academy. Try to get atleast three 6Star players form youth academy every season. These youth are very good players which will surely help your team to win trophys.
Buy Players from Auction-Do not Spend more than 30 tokens for a single player.

Spend at-least 15 token for youth academy per season.
Never buy assistance players more than 50 Tokens.
Only buy Scout players when you have enough tokens and the player is perfectly suitable for your squad.

Sign TV rights which gives Extra for dedication which gives extra token for coming back everyday.
Complete special sponsor mission to get more token which is available once in every top eleven season.
To get free tokens there is some sponsor that will provide you tokens if you complete there mission.
Invite friends to play top eleven and get refral bonus token.
how to win in Top Eleven?
As I say winning is most important in this game, if you are not winning the match you don't want to play this game anymore. So for the most, you have to play to win every game. I have listed various winning tips here so, be sure to read each and everyone and apply them as well.
You must keep your players happy to perform better in a match.

Train them very well by using the above training tips, then provide morale and rest before starting the match.

If you want to beat an opponent you must review the opponent's players and formation and place counter formation to that team. Top Eleven Counter Formation
View the live match and organize your tactics accordingly; like if your opponent is stronger and playing offensive, you should play defensive and hit on the counter-attack on his weaker positions. Check the stat, If you are making lots of fouls then make your tackling style Easy or Normal according to your tactics. Here are some tactics: Top Eleven Tactics

After finishing the match prepare your players for another upcoming match.

Add more friends in the top eleven, they will help you to get more possession during the match. 
Top Eleven Best Formations
4-2-3-1(One of the most balance formation on top eleven Football Manager Game. By the help of this formation you can win any game even your opponent is stronger than you. This formation help you to score more goals even it is Counter Attacking formation.) View more for tactics.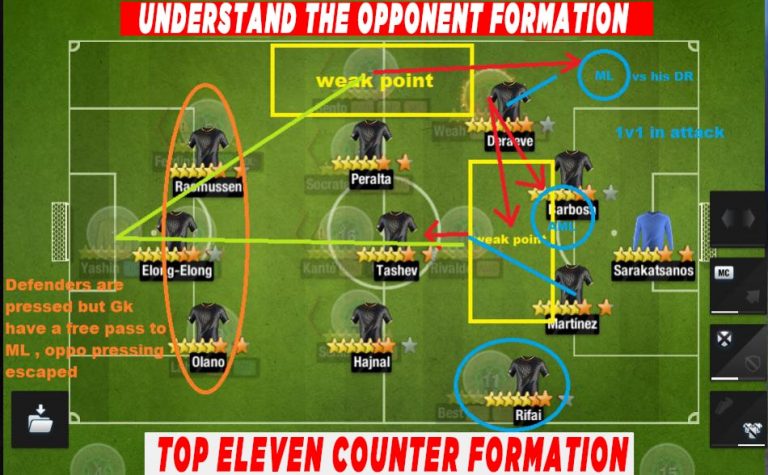 Top Eleven Counter Formations
Here I am going to provide you guys the "Top Eleven counter Formation with Tactics". Following Red hilighted text is opponent formation and the green hilighted text is the formation that you should use to beat opponent.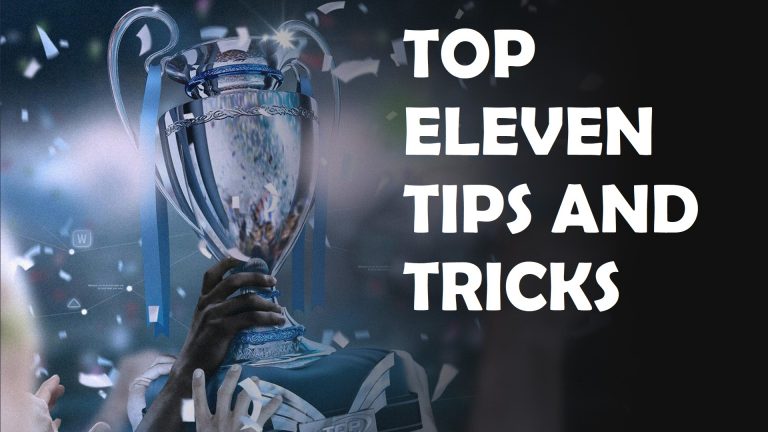 Top Eleven Tips and Tricks
Training tips, Token Tips, Formation Tips. youth academy tips & many more available here. Different player position need different training drills.
Here are the training tips for all individual players.