Always train your Squad before a match. Try easy training which reduce less condition and gives massive result.
Different player position need different training drills.
Here are the training tips for all individual players.
Before starting the match, provide full Morale Boost and Fitness Condition Bouns to your players to perform better and win that match.
How to Beat Strong Top Eleven Opponent?
-You have to play Counter attacking to beat stronger opponent.
-Your opponent will try to score, so you have to be strong in numbers your defense. Try to mark all the opponent's attacking players.
-Then play long balls for the counter-attack. Don't play Short ball because you cannot win against the strong opponent's players. So let the opponent's players attack you then your defense will get the ball by tackling or intercepting and long passes that balls to your attackers to turn defense into attack.
How to Break Opponent's defense?
-If Opponent has 4 Defenders(DL-DC-DC-DR)
Use 2 ST to break them.

-If Opponents has 3 DC
Then use ST-AML-AMR.
-If the Opponents has DL-DC-DR
Then use 3 ST.
How to Defend Opponent's Attack?
-If Opponent has 2 ST.
Use 3DC or DL-DC-DR to defend them.

-If Opponents has 1 ST.
Then use 2 DC to deal with that ST and mark all other attacking players that will provide the balls to the lone ST.
-If the opponent has ST-AML-AMR.
Use DL-3DC-DR to defend them.
Tactics to Beat Strong Top Eleven Opponent
Team Mentality: Normal
Pressing Style: Low
Focus passing: Mixed
Passing Style: Long Pass
Force counterattacks: ON
Offside Trap: OFF
Tackling Style: Normal
Marking Style: Zonal
*Forward Arrow To ST*
Always built your future players from youth academy. Try to get atleast three 6Star players form youth academy every season. These youth are very good players which will surely help your team to win trophys.
Buy Players from Auction-Do not Spend more than 30 tokens for a single player.

Spend at-least 15 token for youth academy per season.
Never buy assistance players more than 50 Tokens.
Only buy Scout players when you have enough tokens and the player is perfectly suitable for your squad.

Sign TV rights which gives Extra for dedication which gives extra token for coming back everyday.
Complete special sponsor mission to get more token which is available once in every top eleven season.
To get free tokens there is some sponsor that will provide you tokens if you complete there mission.
Invite friends to play top eleven and get refral bonus token.
Top Eleven Best Formations
4-2-3-1(One of the most balance formation on top eleven Football Manager Game. By the help of this formation you can win any game even your opponent is stronger than you. This formation help you to score more goals even it is Counter Attacking formation.) View more for tactics.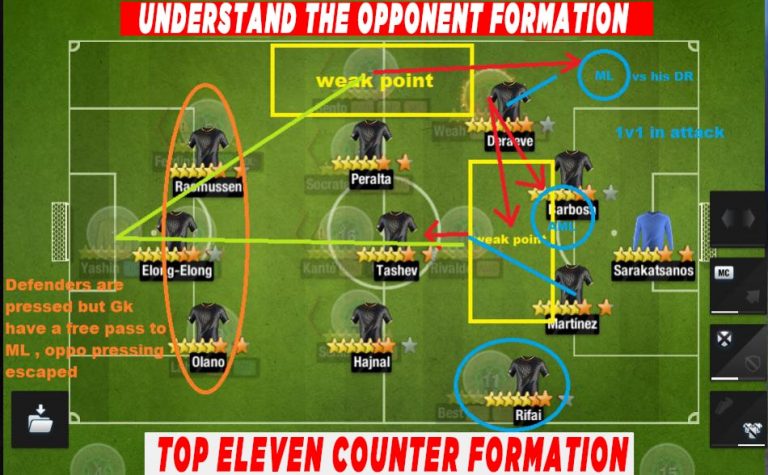 Top Eleven Counter Formations
Here I am going to provide you guys the "Top Eleven counter Formation with Tactics". Following Red hilighted text is opponent formation and the green hilighted text is the formation that you should use to beat opponent.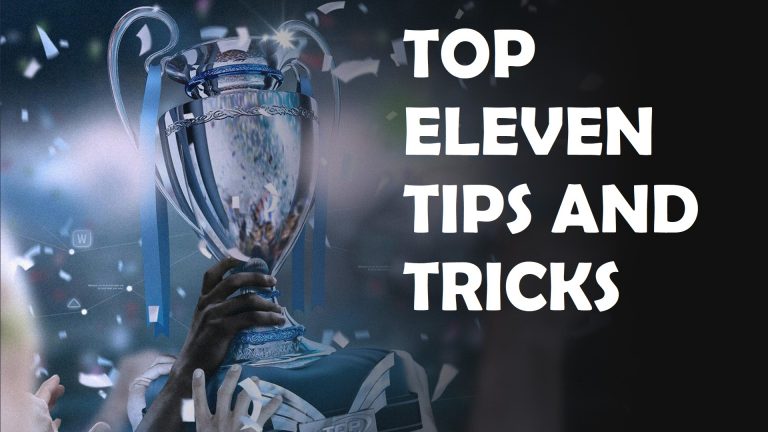 Top Eleven Tips and Tricks
Training tips, Token Tips, Formation Tips. youth academy tips & many more available here. Different player position need different training drills.
Here are the training tips for all individual players.