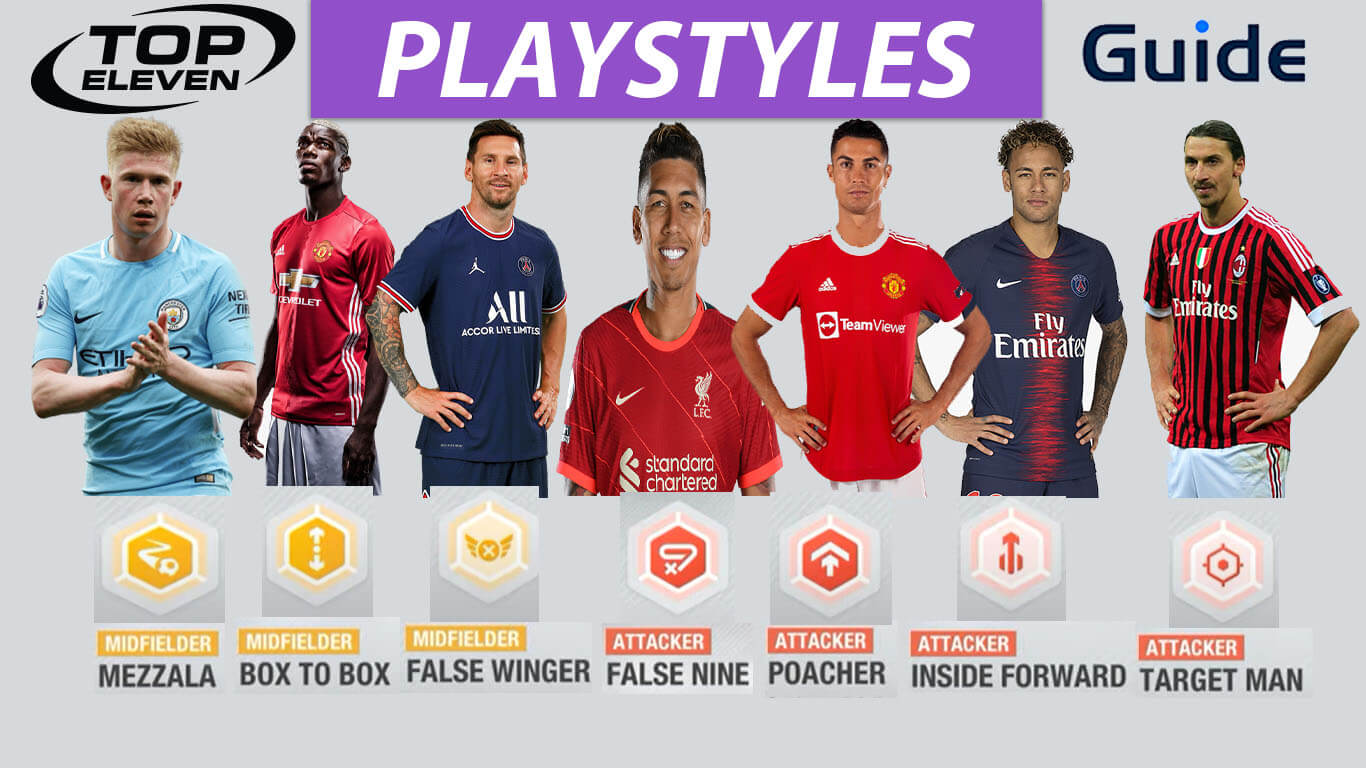 In Top Eleven football Manager player's playstyle defines an individual player's playing style. There are different playing styles in the game such as Box-to-Box, Mezzala, Regista, False Wingers, Target Man, Full Back, Wing Back, Stopper, Sweeper keeper, Poacher, etc.
Use Set-Piece Training to quickly develop your Play-styles.
BOX-TO-BOX
Position: MC
Real Box-to-Box Players: Paul Pogba / Steven Gerrard / Frank Lampard / Bastian Schweinsteiger / Yaya Toure
Present in a large area of the field, the box-to-box MC appears wherever needed, supporting other midfielders. He can take part in both attacking and defending plays.
Formation that fits for Box-to-Box: 4-4-2, 4-3-3, 4-5-1(V-Style), 4-2-3-1
Advantage:
High work-rate.

Active in both defense and attack.

Ball winner.
Disadvantage:
Loss of stamina.

Out of position when the opponent develops Counter attacks.
MEZZALA
Position: MC
Real Mezzala Players: Kevin De Bruyne / Angel Di Maria / Luka Modric
A Mezzala is a wide central-midfield player in a trio or diamond, playing outside and ahead of a single, deeper midfielder. A Mezzala brings dynamism to the midfield and feeds their teammates with his passing skills and space creation. Teammates with high mobility will get the most from him.
Formation that fits for Mezzala: 4-3-3, 4-1-2-1-2 (Narrow Diamond), 4-5-1 (V-Style)
Advantages: 
Helps to exploit gaps in the opposition backline with through balls.

Make runs into a gap between a center-back and a full-back.

Movement ahead of a full-back with overlapping runs that allow the winger to cut inside with the ball.
Disadvantages:
The runs that the mezzala makes ahead of the ball can leave gaps behind them.

A mezzala is less defensive than a pure box-to-box midfielder.

One defensive midfielder player should be placed to cover the defensive gap created by the player
Regista
Position: DMC, MC
Real Regista Players: Jorginho, Andrea Pirlo
The Regista or a deep-lying playmaker is a director. They are responsible for providing the link between defense and attack and controlling the tempo of the game through their passing. With just a few yet very precise and effective actions, he'll pick up the ball deep in his own half and set up an attacking phase for the team.
Formation that fits for Regista: 4-5-1(V-Style), 4-1-2-1-2(Narrow Diamond), 4-3-3, 4-1-3-2
Advantage:
Ball Possession

Accurate Long Ball passing

Control in Mid-Field
Disadvantage:
Lacks the ability to cover ground quickly.

Requires intelligent movements ahead of the ball, otherwise, the regista becomes almost useless.
FALSE WINGERS
POSITION: ML / MR
REAL FALSE WINGER PLAYER: Messi / Eden Hazard
Deployed on the wings, False wingers drift into central areas of the pitch, creating a numerical advantage in the midfield that disrupts and overwhelms rival defenses.
Formations that fits for False Winger: 4-4-1-1, 4-4-2, 4-1-4-1
Advantage:
Creating space behind the opponent's Full-Backs.

Nightmare for one on one defense.

Dangerous on space

Creates lots of chances.

Scores lots of goals.
Disadvantage:
Less responsible in defense.

Leave space on his position for the opponent to counter.